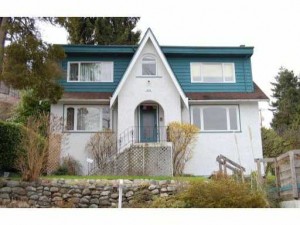 The Clapham House                    This house at 4374 Locarno Crescent was owned by Mr. John Charles Clapham until January 2012.  Mr. Clapham,  an avid hiker and author of the book "Great Walks of Vancouver,"  was elderly and ready to give up the long hike up and down the steps, front and back, of this incredible view lot that fronts two streets, Locarno Crescent and Trimble Avenue.  It was purchased, in a private sale, by Formwerks Boutique Properties (Locarno) Ltd. for $2,850,000 million on  January 13, 2012.
Formwerks Architectural Inc.  http://www.formwerksarchitectural.net/  designed the two new houses currently being built  on either side of Mr. Clapham's home.  Formwerks bought the property and quickly started work on the design of a new house to showcase the astounding ocean and mountain views that the property boasts. However, on March 19, 2012, just  two months and six days after the original sale, Formwerks relisted the house and property for $3,980,000.  Still a teardown; but now for sale at $1,130,000 more than the teardown that it was two months before.  What is even more amazing in this story is that the property did sell again, eighteen days after listing, for $3,585,000!  $740,000 increased value in just eighty-four days.  OMGosh, I'm in the wrong business.  And poor Mr. Clapham, hopefully all that hiking and stair climbing kept his heart  toned, and his arteries plaque free!
Should this house be torn down?  Absolutely.  This is a premium value view lot that deserves a deluxe new home to showcase the view.
MLS# V938092 March 19, 2012 Lot sq ft 6943, 60.37×115,house sq ft 3,069.       List: $3.980M Sold $3.585M 2011 Assessment:$2,844,000. 2012 Assessment:$3,532,000.