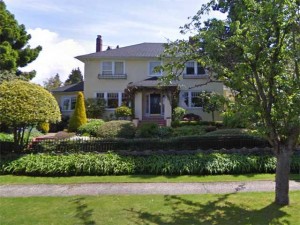 This house at 5516 Laburnum St. on the southwestern edge of Second Shaughnessy is listed for sale at $4.18 M.  It is a liveable, old house and probably not a teardown.  As a result, it is a little hard to sell. On May 14, 2012 it had been on the market for 126 days. The previous sale for this house was on September 2, 2010 after being on the market for 181 days.  It sold then for $2.775M.  The current owners lived in it for 16 months prior to relisting it on January 9, 2012 for $1.23M above their purchase price.  The list price is $400,000 above the 2012 Vancouver property assessment, and $1,170,000 above the 2011 assessment.
The house is west facing on a 80×122 sq ft lot (9760 sq ft)  at the corner of Laburnum and 39th Avenue. It is a 3815 sq ft classic Shaughnessy Georgian, which was  completely restored in heritage style in 2002 before purchase by the current owners. The 1300 sq ft basement was remodeled at that time. The lot is kitty corner from the grounds of Point Grey School  and the soccer pitch surrounding  the Kerrisdale Arena. The home is well maintained with a lovely gardens, a back yard deck,  and a classic, kidney shaped outdoor pool.
Why isn't this house selling?  It is listed pretty high.  It seems like they are 'fishing.'   If they really wanted to sell they would drop the price by about $700,000 to $3.48M, which is slightly more than what similar houses on Cypress St. (one block over) sold for and below 2012 assessed value. Its always a challenge to sell an old house; most buyers with this kind of money want something new, or they want a prime lot to build something new. House prices are dropping. It probably won't hold its value at this price.
MLS# V924647 List: $4.180 2011 Assessment: $3.015M  2012 Assessment: $$3.727.