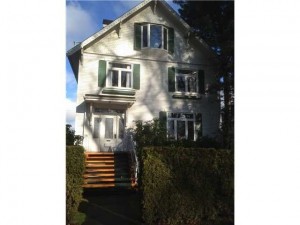 Helene's house.       827 W. 26th Ave.            My youngest daughter, Sophie, desperately wanted to live in this house. She called it 'the farmhouse,' and had dreams of swinging in a hammock in the sunny back yard. The house sits smack in the middle of a 66 x125 ft. lot at 827 West 26th Avenue in Vancouver. It has a lovely yard; perfect for entertaining on a summer evening.  It is  grandfathered at 8 ft higher than the current Vancouver height limit, with views of the North Shore Mountains from balconies on all three levels.  It has a total floor area sq ft of 3878 on four levels including a high basement.  The house fronts onto Braemar Park, a lovely, two block square park with huge oak trees bordering three sides.
Helene's house sold in six days, as a tear down, for $2.6 million, which is $700,000 over the 2012 assessed value.  Why? The 66 ft frontage is actually two 33 ft legal lots.  A builder's dream.  Two brand new 2700 sq ft houses, with secondary suites, and laneway homes should sell for $2,888,000 M each. Tear down one old, build two new.
Should this house be torn down? Probably not.  The house is split into three suites and needs a major renovation inside, but otherwise it really is a stand-out house in a stand-out location.  It is a shame to lose it for what will be two new spec homes crowded onto two 33ft lots.  Houses like those can be built anywhere in Vancouver.
MLS# V931939  List: $2,799,000. Sold: $2,600,000. February 18, 2012.                        2011 Assessed: $1,503,600.  2012 Assessed: $1,904,100.