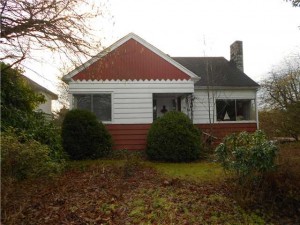 3792 W 1st Ave.
This 70+ year old, 2760 sq ft house sits on a 50×12 ft (6050sq ft) corner lot in a small enclave of Point Grey just two blocks from Jericho Beach, the Royal Vancouver Yacht Club, and the Jericho Tennis Club.  It has a north view, towards the water and mountains, and a sunny, south facing back yard.  A new home would have a peekaboo view of English Bay from the upper floor.
There are only sixty-four 50 ft lots in this small, quiet enclave of Point Grey, west of Alma St. and north of 4th Ave.  On the east side of Alma, in Kitsilano,  the lots have 33 ft or 40 ft frontages and are often only 80 ft deep.  The area just past the enclave boasts an expanse of waterfront parks, beginning with Jericho Beach East and ending in Spanish Banks West.  One can run,  walk, or bicycle for kilometres along a beachfront path.  The lots in this area are flat, and almost waterfront, but they are still a safe 19 ft above sea-level creating a safety margin against future risks of tsunamis and rising sea-levels.
The property was listed for $2,599,000 by its owners, the brothers Bourdeaud'huy, who grew up in the area, and had cross hall bedrooms on the upper half floor of the house before marrying, and moving away.  It sold at a presentation of offers, six days after listing, for  $2,680,000 ($81,000  over list, and $463,200 over the 2012 assessment).  This was a benchmark price for lots in this area of Point Grey. The most recent sale price for a similar lot was $2.4 M in January 2012.  There were eight offers presented at 12 minute intervals on the presentation evening.  Rumour has it that the lot was purchased by the owner of the lot beside it.  The owner was planning to redevelop his own property but preferred to have the more desirable corner lot.  One can speculate that setting a new benchmark for the neighborhood would not harm this buyer as he will gain from the increased value when selling his first property.  The listing agent, Deepk Hayre, represented both the seller and the buyer in a dual agency agreement.
Should this be torn down?  Definitely.  The house is too old and small for this very desirable neighborhood.  Eventually every house in this enclave will be torn down and the properties redeveloped.
Why didn't I buy this property?  I tried to.
MLS# V933426. 2760 sq ft house. 6050 sq ft lot. Sold $2.68 M. February 26, 2012.  2011 Assessment:$1,731,800.  2012 Assessment:$2,216,800.