4326 Angus Drive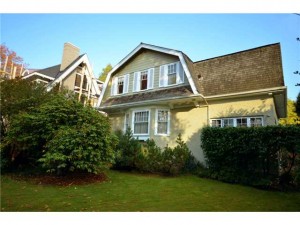 This house sold in one day as a teardown.  It sits on a desirable, large, flat lot, on the high side of the street in Second Shaughnessy. It is one house from the corner of Angus and Nanton.  The lot is 73×140 ft, or 10,457 sq ft. The house was listed for sale at $3,498,000 on October 31, 2011 as a lot value property.  No viewings were scheduled.  Prospective buyers were allowed to walk the property with their realtor, only.  They were advised not to mention to the owner that they might want to tear down the house.  A  presentation of offers was held on November 1, 2011 at 5:00pm, and there were apparently  five valid offers.  It sold as a teardown for $3,590,000 to a developer.
The owners of this house and property were James and Beverly Craig.  They raised their three children here.  One of their sons rode his bike from this home to classes at UBC.  James Craig was a lawyer and well known mountaineer. He was past president of the BC Mountaineering Club.  Sadly, Mr. Craig passed away on November 10, 2011 at the age of 87.
Should this house be torn down?  Shamefully, probably.  But only in Vancouver.  Almost all the houses on this beautiful, tree-lined street are being torn down and rebuilt.  The house next door, on the corner of Angus and Nanton, was completely renovated and in pristine shape before it was torn down in 2009. The Craig house was never updated but it certainly had good bones for a major renovation. Surprisingly, the 2011 BC Assessment value for the house was $123,000.  In some towns that might be a valuable asset. More significantly, it is sad to lose the charming character, and the lovely yards of these old homes.  The huge, new 'character' homes on the same street have almost no yard to speak of.  On the other hand, they are certainly gorgeous, and they come with terrific basements, fabulous kitchens, and many baths.
Why didn't I buy this house? I couldn't afford both the land and the cost of building a new house.  There wasn't an option to assess the existing house for renovation potential prior to the sale.
MLS# V917935  Lot size: 73×140 ft, or 10,457 sq ft List:$3,498,000 Sold:$3,590,000 2011 assessment:$2,794,000. 2012 Assessment: $3,777,500.