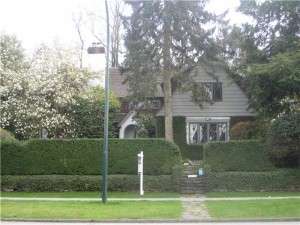 This house at 1376 West 33rd Avenue sold on May 11, 2012 for  $2.315M, which is $103,000 below assessed value .  The house was listed on March 7, 2012 for $2.888M.  It was re listed on May 7, 2012 at $2.398M, and sold four days later, on May 11th.  The house is 4,823 sq ft of solid heritage class, situated on a 70 x 125 (8755)sq ft lot.  It is on 33rd Avenue, halfway between Oak Street and Granville Street.  33rd  is a minor corridor and the old timers on this street tend to sell comparatively low for 2nd Shaughnessy, despite their charming character, well-kept state, and large north-south lots backing onto the gorgeous Van Dusen Botanical Gardens.
The house was built in 1932 in the French Provincial style.  It has fabulous hand adzed beams throughout the large principal rooms, solid hand built doors with iron hinges through the whole house, and intact leaded glass windows up and down.  The kitchen has been redone, although admittedly in a somewhat senior's style.  There are five bathrooms in total, with four large bedrooms up.  Most of the square footage is on the two upper floors so the house is well suited for a family of five. The house definitely needs a reno to bring it up to  full heritage potential, but that would consist mainly of opening up the entrance to the nanny suite to bring it back to the flow of the main house, and redoing the upstairs bathrooms.  The dark floors, doors, and beams are perfect as is.   Wood fireplaces add fantastic originality to the home, and certainly could be left as is, with repointing, if needed.  The back yard is large, charming, and very private because it backs onto the Van Dusen Gardens.  It is perfect for entertaining with doors that open off both the dining room and living room.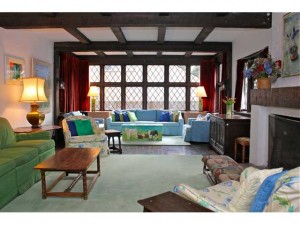 This was the first time on the market for this lovely, eighty year old house.  The realtor, the hip and vivaceous Bri Ragona, (I saw her out on the roof of the garage one sunny day.  I'm sure she was wearing silver boots), was related to the seller (maybe the seller's granddaughter).  The sale price for this large house and property was comparatively fair by Vancouver standards.  Unfortunately, at this price, it is quite possible that it sold as a builder's lot. A brand new, 6074 sq ft modern heritage mansion, on the same size lot,  just down the street at 1276 33rd Avenue is currently for sale at $7,860,000!  A builder would be able to duplicate the house for a total cost of $4.1M including property and building costs.  That leaves a $3.1M profit margin, if sold for asking price. Knock a million off, and there is still room for a $2M profit.  Crazy? Sure.
Teardown or Not?  I would really hope not.  The house is valued at $163,000 on the 2012 assessment. There are other large lots in Vancouver but there are surely not many other homes with this kind of character and style.  It is truly a loss to city heritage if this  home is torn down to build one more fancy, molded and tiled, mansion.  How many wood-burning fireplaces are left in this city, anyway? OK, I know…, burning trees,

. The carbon cost of burning trees for another fifty years couldn't possibly match the carbon footprint of tearing this home down to build another, bigger, more glorious, one.
Addendum: May 24, 2012  Ms. Ragona says that the house was purchased by a young family who plan to restore it to its original charm.  That is awesome.  Heritage preserved.
MLS# V948806  List: $2.398M.  Sold: $2.315M.  Lot: 8755 sq ft.  House: 4,823 sq ft.        2011 Assessed:  $1,711,000.  2012 Assessed: $2,418,000.