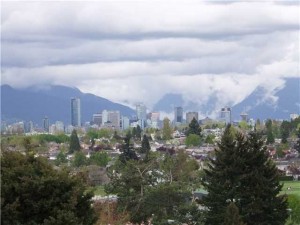 The 64 year old house on this 50×130 ft property at 4381 Puget Drive sold as a teardown in three days, on May 4, 2012.  There were no pictures of the house on the MLS listing.  The value of this property is not in the house but in the view from the house.  The lot boasts a fantastic "Vancouver city lights" view, with a 180 degree vista across the Arbutus valley towards downtown and the north shore mountains.  The 50ft frontage is wider than most of the neighboring lots, which are only 33ft.  Ridge properties tend to be hard to build on, and may have as many as six 2m contour lines running through them. This lot is situated over three 2m contour lines, with the upper and lower drops at the very edge of the property. The main building area has only one 2m drop running through it, which makes building a new home comparatively quite easy.
Should this house be torn down?  Of course, one can build their dream home here.
Why didn't I buy this house? OMG! OMG! I wish I had two lives.  I stood on the steps and surveyed the view the day it was listed.  Fabulous!  I knew it would sell fast, at or above list price.  I was otherwise engaged.  I was preoccupied with other matters.  I must have been crazy.
MLS#4947442.  Lot size:50×130   List:$2.388M   Sold:$2.3M                                    2011 Assessment:$1,925,400  2012 Assessment:$2.341M